Estamos felices de anunciarles nuestra nueva alianza con @cabidash 🥳

¿Sabes de que se trata?

Contamos con un nuevo método de pago.

Dash Efectivo Digital llego a nuestras instalaciones para ofrecerte un mejor servicio sin necesidad de hacer largas filas. pic.twitter.com/YJESBHLqMQ

— Car Milenium (@CarMilenium) August 12, 2019
A shopping mall in Venezuela has added Dash as a payment method for its parking garage, surpassing traditional payments for parking and generating hundreds of new users and transactions.
The Millennium mall, located in western Venezuela, has integrated Dash payments into its parking structure to provide relief from the broken fiat currency processing systems currently in place, where customers are forced to wait in excess of 60 minutes in order to check out of the mall. Through a partnership with the Dash Cabimas group, over 500 users have been onboarded over the past few weeks with parking payments made in a matter of seconds with Dash, significantly cutting down on processing time. According to Julio Daza, general manager for the mall's parking lot CarMillennium, Dash has proven to be the best option for parking payments:
"For us at Millenium mall, being able to modernize the payment options for our parking system and all our internal businesses is great news, as the legacy system usually does not work fast enough, or does not work at all. So far we have found Dash to be the best option in the market, mostly because of the speed and low cost of the transactions."
To date, 697 payments have been recorded since July 15th for parking alone, including two days with a nationwide blackout disrupting payments. In order to facilitate parking payments with Dash, agents have been set up on-site who sell Dash peer-to-peer to mall customers, ensuring that new users have both a source of acquiring and spending Dash in the same location, creating a closed-loop ecosystem. In addition to integrating Dash payments for the parking lot, 20% of the shopping mall's merchants have integrated Dash or are seeking to set up Dash payments.
Dash solving a very specific pain point has produced more adoption than many other systems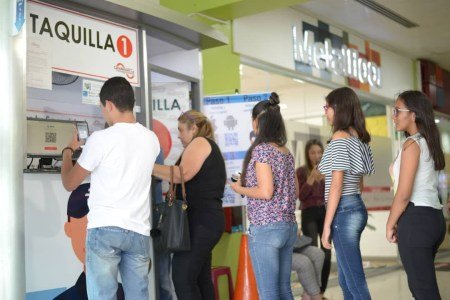 According to Dash Core's business development manager for Latin America Ernesto Contreras, the pilot program for the Millennium mall parking garage provides a great entry point for introducing Dash as a solution to real problems in the key target area of Venezuela:
"Developing this pilot of a Dash ecosystem within this mall in Venezuela is a strategic move for us, as it will help immediately solve payment inefficiencies for business owners and users. As users become increasingly familiarized with our technology, we expect a behavior change to be created in users, who will get acquainted with the ease, speed, and very low fees of utilizing Dash for their everyday needs."
The creation of a targeted use case for Dash, with simple onboarding and a clear value proposition, has proven to be effective in generating real purchases, an area where cryptocurrency as a whole has struggled. According to data from Paga con Dash, across the same time period 1,174 purchases were made in stores across Colombia and parts of Venezuela that were recorded by the point-of-sale system. Similarly, multi-coin point-of-sale system Anypay recorded 352 Dash transactions during the month of July. During that same time period, the single Millennium mall recorded nearly 60% and 198% of the two systems' respective transaction total from parking payments alone, hinting at the effectiveness of developing use cases for Dash with laser-focused problem/solution combinations.
Latin America's growing Dash boom
The successful pilot in the Millennium mall constitutes only the latest recorded instance of Dash's use growing in Latin America. Recently, Dash reached over 10,000 active wallets in Venezuela alone, and the Dash LatAm project recently passed 1,100 monthly transactions on its point-of-sale system. The CEO of Latin American exchange Cryptobuyer recently noted that Dash "outpaced Bitcoin" on the platform as user demand has flipped in the region. The XPay payment processor, Kamoney merchant solution an bill pay processor, and the Cubobit exchange have all recently added Dash, servicing primarily Colombia and Venezuela, Brazil, and Mexico, respectively. These options strengthen the use case for remittances using Dash sent to the region, particularly since Bitnovo has added thousands of locations in Portugal to buy Dash, and Uphold has removed the withdrawal fee for Dash, facilitating users around the world buying Dash and sending home as a remittance.


Source: https://dashnews.org/dash-added-for-parking-payments-at-venezuelan-shopping-mall-surpasses-fiat-payments/
Descargo de responsabilidad
Toda la información contenida en este sitio web se publica solo con fines de información general y no como un consejo de inversión. Cualquier acción que el lector realice sobre la información que se encuentra en nuestro sitio web es estrictamente bajo su propio riesgo. Nuestra prioridad es brindar información de alta calidad. Nos tomamos nuestro tiempo para identificar, investigar y crear contenido educativo que sea útil para nuestros lectores. Para mantener este estándar y continuar creando contenido de buena calidad. Pero nuestros lectores pueden basarse en su propia investigación.